NCP1051: Monolithic High Voltage Gated Oscillator Power Switching Regulator
内容:
The NCP1050 through NCP1055 are monolithic high vo...
The NCP1050 through NCP1055 are monolithic high voltage regulators that enable end product equipment to be compliant with low standby power requirements. This device series combines the required converter functions allowing a simple and economical power system solution for office automation, consumer, and industrial products. These devices are designed to operate directly from a rectified AC line source. In flyback converter applications they are capable of providing an output power that ranges from 6.0 W to 40 W with a fixed AC input of 100 V, 115 V, or 230 V, and 3.0 W to 20 W with a variable AC input that ranges from 85 V to 265 V. This device series features an active startup regulator circuit that eliminates the need for an auxiliary bias winding on the converter transformer, fault logic with a programmable timer for converter overload protection, unique gated oscillator configuration for extremely fast loop response with double pulse suppression, power switch current limiting, input undervoltage lockout with hysteresis, thermal shutdown, and auto restart fault detection. These devices are available in an economical 8-pin dual-in-line package.
特長
Startup Circuit Eliminates the Need for Transformer Auxiliary Bias Winding
Optional Auxiliary Bias Winding Override for Lowest Standby Power Applications
Converter Output Overload and Open Loop Protection
Auto Restart Fault Protection
IC Thermal Fault Protection
Unique, Dual Edge, Gated Oscillator Configuration for Extremely Fast Loop Response
Oscillator Frequency Dithering with Controlled Slew Rate Driver for Reduced EMI
Low Power Consumption Allowing European Blue Angel Compliance
On–Chip 700 V Power Switch Circuit and Active Startup Circuit
Rectified AC Line Source Operation from 85 V to 265 V
Input Undervoltage Lockout with Hysteresis
Oscillator Frequency Options of 44 kHz, 100 kHz, 136 kHz
Pb-Free Packages are Available
アプリケーション
AC–DC Converters
Wall Adapters
Portable Electronic Chargers
Low Power Standby and Keep–Alive Supplies
供給状況 & サンプル
パッケージ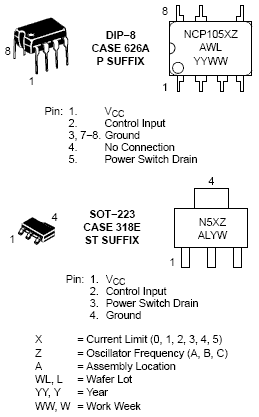 アプリケーション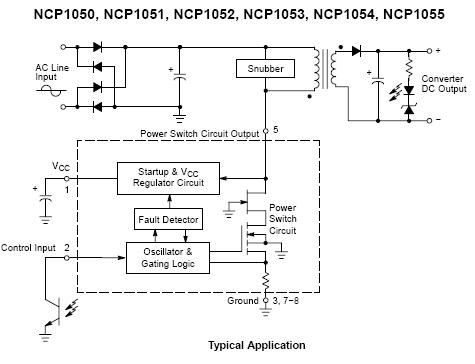 Specifications
Control Mode: Current Mode&nbsp
fsw Typ (kHz): 100&nbsp 136&nbsp 44&nbsp
fJitter Typ (%): Yes&nbsp
Stand-by Mode: Yes&nbsp
RDS(ON) Typ (Ω): 30&nbsp
V(BR)DSS Max (V): 700&nbsp
IPeak (mA): 200&nbsp
HV Start-up Min (V): Yes&nbsp
DSS (mA): 6.3&nbsp
UVLO: Yes&nbsp
Short Circuit Protection: Yes&nbsp
Over Power Compensation: No&nbsp
Brown-out: No&nbsp
Latch: Yes&nbsp
Package Type: SOT-223-4 / TO-261-4&nbsp