MC74VHC138: 3-to-8 Line Decoder
内容:
The MC74VHC138 is an advanced high speed CMOS 3-to...
The MC74VHC138 is an advanced high speed CMOS 3-to-8 decoder fabricated with silicon gate CMOS technology. It achieves high speed operation similar to equivalent Bipolar Schottky TTL while maintaining CMOS low power dissipation.

When the device is enabled, three Binary Select inputs (A0 - A2) determine which one of the outputs (Y0 - Y7) will go Low. When enable input E3 is held Low or either E2bar or E1bar is held High, decoding function is inhibited and all outputs go high. E3, E2bar, and E1bar inputs are provided to ease cascade connection and for use as an address decoder for memory systems.

The internal circuit is composed of three stages, including a buffer output which provides high noise immunity and stable output. The inputs tolerate voltages up to 7V, allowing the interface of 5V systems to 3V systems.
特長
High Speed: tPD = 5.7ns (Typ) at VCC = 5V
Low Power Dissipation: ICC = 4mA (Max) at TA = 25°C
High Noise Immunity: VNIH = VNIL = 28% VCC
Power Down Protection Provided on Inputs
Balanced Propagation Delays
Designed for 2V to 5.5V Operating Range
Low Noise: VOLP = 0.8 V (Max)
Pin and Function Compatible with Other Standard Logic Families
Latchup Performance Exceeds 300mA
ESD Performance: HBM > 2000V; Machine Model > 200V
Chip Complexity: 122 FETs or 30.5 Equivalent Gates
These devices are available in Pb-free package(s). Specifications herein apply to both standard and Pb-free devices. Please see our website at www.onsemi.com for specific Pb-free orderable part numbers, or contact your local ON Semiconductor sales office or representative.
供給状況 & サンプル
MC74VHC138DG
状態:&nbspActive
Compliance:&nbspPb-free Halide free
内容:&nbsp3-to-8 Line Decoder
外形&nbspタイプ:&nbspSOIC-16
外形&nbspCase Outline:&nbsp751B-05
MSL:&nbsp1
梱包形態&nbspタイプ:&nbspTUBE
梱包形態&nbsp数量:&nbsp48
在庫
Market Leadtime (weeks):2 to 4
Arrow:0
Avnet:>1K
Digikey:>1K
FutureElectronics:<1K
ON Semiconductor:5,088
PandS:<100
MC74VHC138DR2G
状態:&nbspActive
Compliance:&nbspPb-free Halide free
内容:&nbsp3-to-8 Line Decoder
外形&nbspタイプ:&nbspSOIC-16
外形&nbspCase Outline:&nbsp751B-05
MSL:&nbsp1
梱包形態&nbspタイプ:&nbspREEL
梱包形態&nbsp数量:&nbsp2500
在庫
Market Leadtime (weeks):4 to 8
Arrow:0
Digikey:>1K
Newark:>1K
ON Semiconductor:72,500
MC74VHC138DTR2G
状態:&nbspActive
Compliance:&nbspPb-free Halide free
内容:&nbsp3-to-8 Line Decoder
外形&nbspタイプ:&nbspTSSOP-16
外形&nbspCase Outline:&nbsp948F-01
MSL:&nbsp1
梱包形態&nbspタイプ:&nbspREEL
梱包形態&nbsp数量:&nbsp2500
在庫
Market Leadtime (weeks):2 to 4
Arrow:0
Digikey:>1K
PandS:>1K
パッケージ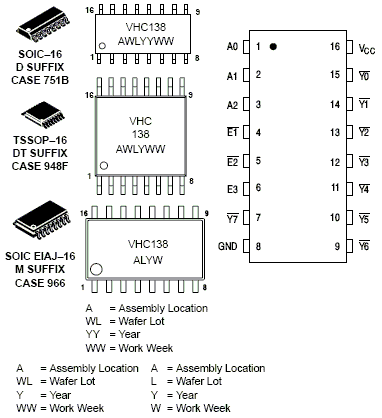 Specifications
Channels: 1&nbsp
VCC Min (V): 2&nbsp
VCC Max (V): 5.5&nbsp
tpd Max (ns): 10.1&nbsp
IO Max (mA): 8&nbsp
Package Type: SOIC-16&nbsp TSSOP-16&nbsp