MC74HCT373A: Octal Latch
内容: High-Performance Silicon-Gate CMOS

The MC...
High-Performance Silicon-Gate CMOS

The MC74HCT373A may be used as a level converter for interfacing TTL or NMOS outputs to High-Speed CMOS inputs.

HCT373A is identical in pinout to the LS373.

The eight latches of the HCT373A are transparent D-type latches. While the Latch Enable is high the Q outputs follow the Data Inputs. When Latch Enable is taken low, data meeting the setup and hold times becomes latched.

The Output Enable does not affect the state of the latch, but when Output Enable is high, all outputs are forced to the high-impedance state. Thus, data may be latched even when the outputs are not enabled.

The HCT373A is identical in function to the HCT573A, which has the input pins on the opposite side of the package from the output pins. This device is similar in function to the HCT533A, which has inverting outputs.
特長
Output Drive Capability: 15 LSTTL Loads
TTL/NMOS-Compatible Input Levels
Outputs Directly Interface to CMOS, NMOS, and TTL
Operating Voltage Range: 4.5 to 5.5 V
Low Input Current: 1.0 mA
In Compliance with the Requirements Defined by JEDEC Standard No. 7A
Chip Complexity: 196 FETs or 49 Equivalent Gates
These devices are available in Pb-free package(s). Specifications herein apply to both standard and Pb-free devices. Please see our website at www.onsemi.com for specific Pb-free orderable part numbers, or contact your local ON Semiconductor sales office or representative.
供給状況 & サンプル
パッケージ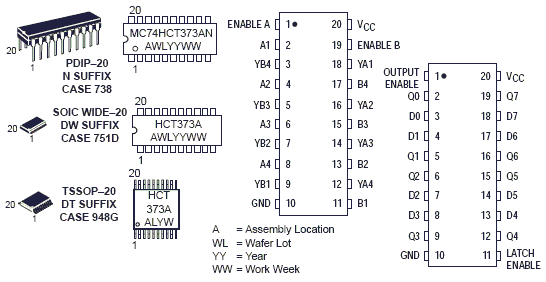 Specifications
Type: Latch&nbsp
Channels: 8&nbsp
VCC Min (V): 4.5&nbsp
VCC Max (V): 5.5&nbsp
tpd Max (ns): 28&nbsp
IO Max (mA): 6&nbsp
Package Type: TSSOP-20&nbsp SOIC-20W&nbsp