MC74HCT273A: Octal D Flip-Flop
内容: High-Performance Silicon-Gate CMOS

The MC7...
High-Performance Silicon-Gate CMOS

The MC74HCT273A may be used as a level converter for interfacing TTL or NMOS outputs to High-Speed CMOS inputs.

The HCT273A is identical in pinout to the LS273. This device consists of eight D flip-flops with common Clock and Reset inputs. Each flip-flop is loaded with a low-to-high transition of the Clock input. Reset is asynchronous and active low.
特長
Output Drive Capability: 10 LSTTL Loads
TTL/NMOS Compatible Input Levels
Outputs Directly Interface to CMOS, NMOS and TTL
Operating Voltage Range: 4.5 to 5.5 V
Low Input Current: 1.0 µA
In Compliance with the Requirements Defined by JEDEC Standard No. 7A
Chip Complexity: 284 FETs or 71 Equivalent Gates
These devices are available in Pb-free package(s). Specifications herein apply to both standard and Pb-free devices. Please see our website at www.onsemi.com for specific Pb-free orderable part numbers, or contact your local ON Semiconductor sales office or representative.
供給状況 & サンプル
パッケージ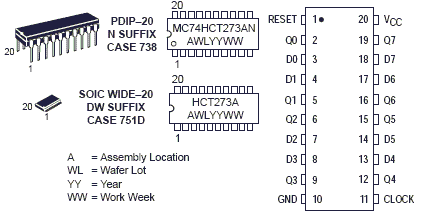 Specifications
Type: D-Type&nbsp
Channels: 8&nbsp
VCC Min (V): 4.5&nbsp
VCC Max (V): 5.5&nbsp
tpd Max (ns): 25&nbsp
IO Max (mA): 6&nbsp
Package Type: TSSOP-20&nbsp SOIC-20W&nbsp