MC14521B: 24-Stage Frequency Divider
内容:
The MC14521B consists of a chain of 24 flip-flops ...
The MC14521B consists of a chain of 24 flip-flops with an input circuit that allows three modes of operation. The input will function as a crystal oscillator, an RC oscillator, or as an input buffer for an external oscillator. Each flip-flop divides the frequency of the previous flip-flop by two, consequently this part will count up to 224 = 16,777,216. The count advances on the negative going edge of the clock. The outputs of the last seven-stages are available for added flexibility.
特長
All Stages are Resettable
Reset Disables the RC Oscillator for Low Standby Power Drain
RC and Crystal Oscillator Outputs Are Capable of Driving External Loads
Test Mode to Reduce Test Time
VDD' and VSS' Pins Brought Out on Crystal Oscillator Inverter to Allow the Connection of External Resistors for Low-Power Operation
Supply Voltage Range = 3.0 Vdc to 18 Vdc
Capable of Driving Two Low-power TTL Loads or One Low-power Schottky TTL Load over the Rated Temperature Range.
Pb-Free Packages are Available
供給状況 & サンプル
パッケージ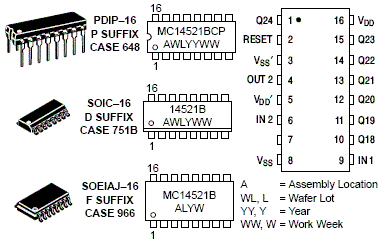 Specifications
Type: Divider&nbsp
VCC Min (V): 3&nbsp
VCC Max (V): 18&nbsp
tpd Max (ns): 4500&nbsp
PD Max (W): 0.5&nbsp
IO Max (mA): 2.25&nbsp
Package Type: SOIC-16&nbsp