MC14516B: Binary Up/Down Counter
内容:
The MC14516B synchronous up/down binary counter is...
The MC14516B synchronous up/down binary counter is constructed with MOS P-channel and N-channel enhancement mode devices in a monolithic structure.

This counter can be preset by applying the desired value, in binary, to the Preset inputs (P0, P1, P2, P3) and then bringing the Preset Enable (PE) high. The direction of counting is controlled by applying a high (for up counting) or a low (for down counting) to the UP/DOWN input. The state of the counter changes on the positive transition of the clock input.

Cascading can be accomplished by connecting the Carrybar Outbar to the Carrybar Inbar of the next stage while clocking each counter in parallel. The outputs (Q0, Q1, Q2, Q3) can be reset to a low state by applying a high to the reset (R) pin.

This CMOS counter finds primary use in up/down and difference counting. Other applications include: (1) Frequency synthesizer applications where low power dissipation and/or high noise immunity is desired, (2) Analog-to-digital and digital-to-analog conversions, and (3) Magnitude and sign generation.
特長
Diode Protection on All Inputs
Supply Voltage Range = 3.0 Vdc to 18 Vdc
Internally Synchronous for High Speed
Logic Edge-Clocked Design - Count Occurs on Positive Going Edge of Clock
Single Pin Reset
Asynchronous Preset Enable Operation
Capable of Driving Two Low-Power TTL Loads or One Low-Power Schottky Load Over the Rated Temperature Range
Pb-Free Packages are Available
供給状況 & サンプル
MC14516BDG
状態:&nbspActive
Compliance:&nbspPb-free Halide free
内容:&nbspBinary Up/Down Counter
外形&nbspタイプ:&nbspSOIC-16
外形&nbspCase Outline:&nbsp751B-05
MSL:&nbsp1
梱包形態&nbspタイプ:&nbspTUBE
梱包形態&nbsp数量:&nbsp48
在庫
Market Leadtime (weeks):2 to 4
Arrow:0
Digikey:>1K
Newark:<1K
ON Semiconductor:7,200
MC14516BDR2G
状態:&nbspActive
Compliance:&nbspPb-free Halide free
内容:&nbspBinary Up/Down Counter
外形&nbspタイプ:&nbspSOIC-16
外形&nbspCase Outline:&nbsp751B-05
MSL:&nbsp1
梱包形態&nbspタイプ:&nbspREEL
梱包形態&nbsp数量:&nbsp2500
在庫
Market Leadtime (weeks):2 to 4
Arrow:0
Digikey:>1K
Newark:>1K
NLV14516BDR2G
状態:&nbspActive
Compliance:&nbspAEC Qualified PPAP Capable Pb-free Halide free
内容:&nbspBinary Up/Down Counter
外形&nbspタイプ:&nbspSOIC-16
外形&nbspCase Outline:&nbsp751B-05
MSL:&nbsp1
梱包形態&nbspタイプ:&nbspREEL
梱包形態&nbsp数量:&nbsp2500
パッケージ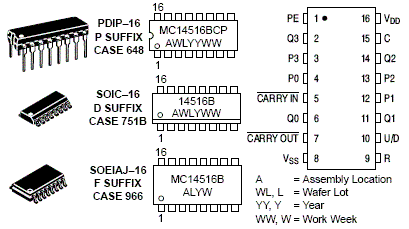 Specifications
Type: Counter&nbsp
VCC Min (V): 3&nbsp
VCC Max (V): 18&nbsp
tpd Max (ns): 260&nbsp
PD Max (W): 0.5&nbsp
IO Max (mA): 2.25&nbsp
Package Type: SOIC-16&nbsp