MC100LVEP34: 2.5 V / 3.3 V ECL ÷2, ÷4, ÷8 Clock Generation Chip
内容:
The MC100LVEP34 is a low skew DIV2, DIV4, DIV8 clo...
The MC100LVEP34 is a low skew DIV2, DIV4, DIV8 clock generation chip designed explicitly for low skew clock generation applications. The internal dividers are synchronous to each other, therefore, the common output edges are all precisely aligned. The VBB pin, an internally generated voltage supply, is available to this device only. For single-ended input conditions, the unused differential input is connected to VBB as a switching reference voltage. VBB may also rebias AC coupled inputs. When used, decouple VBB and VCC via a 0.01 uF capacitor and limit current sourcing or sinking to 0.5 mA. When not used, VBB should be left open.

The common enable (ENbar) is synchronous so that the internal dividers will only be enabled/disabled when the internal clock is already in the LOW state. This avoids any chance of generating a runt clock pulse on the internal clock when the device is enabled/disabled as can happen with an asynchronous control. An internal runt pulse could lead to losing synchronization between the internal divider stages. The internal enable flip-flop is clocked on the falling edge of the input clock; therefore, all associated specification limits are referenced to the negative edge of the clock input.

Upon startup, the internal flip-flops will attain a random state; the master reset (MR) input allows for the synchronization of the internal dividers, as well as multiple LVEP34s in a system. Single-ended CLK input operation is limited to a VCC of ≥ 3.0 V in PECL mode, or VEE ≤ -3.0 V in NECL mode.
特長
35 ps Output-to-Output Skew
Synchronous Enable/Disable
Master Reset for Synchronization
The 100 Series Contains Temperature Compensation.
PECL Mode Operating Range: VCC = 2.375 V to 3.8 V with VEE = 0 V
NECL Mode Operating Range: VCC = 0 V with VEE = -2.375 V to -3.8 V
Open Input Default State
LVDS Input Compatible
供給状況 & サンプル
パッケージ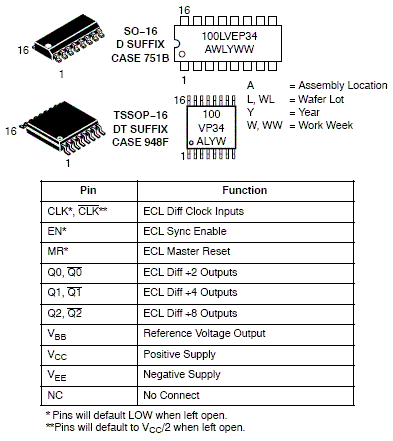 Specifications
Type: Divider&nbsp
Input Level: CML&nbsp LVDS&nbsp ECL&nbsp
Output Level: ECL&nbsp
VCC Typ (V): 3.3&nbsp 2.5&nbsp
fMax Typ (MHz): 2800&nbsp
tpd Typ (ns): 0.7&nbsp
tR & tF Max (ps): 200&nbsp
Package Type: SOIC-16&nbsp TSSOP-16&nbsp