MC100LVEP111: 2.5 V / 3.3 V 2:1:10 Differential ECL/PECL/HSTL Clock / Data Fanout Buffer
内容:
The MC100LVEP111 is a low skew 2:1:10 differential...
The MC100LVEP111 is a low skew 2:1:10 differential driver, designed with clock distribution in mind, accepting two clock sources into an input multiplexer. The PECL input signals can be either differential or single-ended (if the VBB output is used). HSTL inputs can be used when the LVEP111 is operating under PECL conditions.

The LVEP111 specifically guarantees low output-to-output skew.Optimal design, layout, and processing minimize skew within a device and from device to device.

To ensure tightest skew, both sides of differential outputs identically terminate into 50 ohms even if only one side is being used. When fewer than all ten pairs are used, identically terminate all the output pairs on the same package side whether used or unused. If no outputs on a single side are used, then leave these outputs open (unterminated). This will maintain minimum output skew. Failure to do this will result in a 10-20 ps loss of skew margin (propagation delay) in the output(s) in use.


特長
85 ps Typical Device-to-Device Skew
20 ps Typical Output-to-Output Skew
Jitter Less than 1 ps RMS
Additive RMS Phase Jitter: 60fs @156.25MHz, Typical
Maximum Frequency >3 Ghz Typical
VBB Output
430 ps Typical Propagation Delay
The 100 Series Contains Temperature Compensation
PECL and HSTL Mode Operating Range: VCC = 2.375 V to 3.8 V with VEE = 0 V
NECL Mode Operating Range: VCC = 0 V with VEE = -2.375 V to -3.8 V
Open Input Default State
LVDS Input Compatible
アプリケーション
General purpose clock and data distribution for Networking, ATE and Computing
供給状況 & サンプル
パッケージ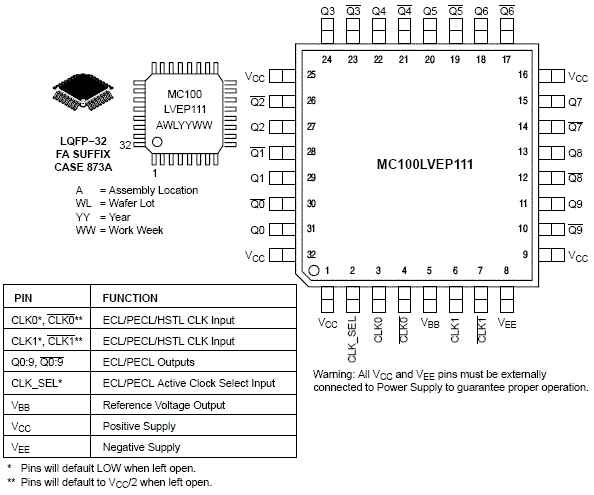 Specifications
Type: Buffer&nbsp
Channels: 1&nbsp
Input / Output Ratio: 2:1:10&nbsp
Input Level: ECL&nbsp LVDS&nbsp CML&nbsp HSTL&nbsp
Output Level: ECL&nbsp
VCC Typ (V): 2.5&nbsp 3.3&nbsp
tJitterRMS Typ (ps): 0.2&nbsp
tskew(o-o) Max (ps): 25&nbsp
tpd Typ (ns): 0.43&nbsp
tR & tF Max (ps): 255&nbsp
fmaxClock Typ (MHz): 3000&nbsp
fmaxData Typ (Mbps): &nbsp
Package Type: LQFP-32&nbsp QFN-32&nbsp