MC100LVEL51: ECL Differential Clock D Flip-Flop
内容:
The MC100LVEL51 is a differential clock D flip-flo...
The MC100LVEL51 is a differential clock D flip-flop with reset. The device is functionally equivalent to the EL51 device, but operates from a 3.3V supply. With propagation delays and output transition times essentially equal to the EL51, the LVEL51 is ideally suited for those applications which require the ultimate in AC performance at 3.3V VCC.

The reset input is an asynchronous, level triggered signal. Data enters the master portion of the flip-flop when the clock is LOW and is transferred to the slave, and thus the outputs, upon a positive transition of the clock. The differential clock inputs of the LVEL51 allow the device to be used as a negative edge triggered flip-flop.

The differential input employs clamp circuitry to maintain stability under open input conditions. When left open, the CLK input will be pulled down to VEE and the CLKbar input will be biased at VCC/2.
特長
475ps Propagation Delay
2.8GHz Toggle Frequency
ESD Protection: >4 KV HBM, >200 V MM
The 100 Series Contains Temperature Compensation
PECL Mode Operating Range: VCC= 3.0 V to 3.8 V with VEE= 0 V
NECL Mode Operating Range: VCC= 0 V with VEE= -3.0 V to -3.8 V
Internal Input Pulldown Resistors
Meets or Exceeds JEDEC Spec EIA/JESD78 IC Latchup Test
Moisture Sensitivity Level 1
For Additional Information, see Application Note AND8003/D
Flammability Rating: UL-94 code V-0 @ 1/8", Oxygen Index 28 to 34
Transistor Count = 114 devices
Pb-Free Packages are Available
アプリケーション
2.8GHz Toggle Frequency
供給状況 & サンプル
MC100LVEL51DG
状態:&nbspActive
Compliance:&nbspPb-free Halide free
内容:&nbspECL Differential Clock D Flip-Flop
外形&nbspタイプ:&nbspSOIC-8
外形&nbspCase Outline:&nbsp751-07
MSL:&nbsp1
梱包形態&nbspタイプ:&nbspTUBE
梱包形態&nbsp数量:&nbsp98
在庫
Market Leadtime (weeks):2 to 4
Arrow:0
Digikey:<1K
MC100LVEL51DTR2G
状態:&nbspActive
Compliance:&nbspPb-free Halide free
内容:&nbspECL Differential Clock D Flip-Flop
外形&nbspタイプ:&nbspTSSOP-8
外形&nbspCase Outline:&nbsp948R-02
MSL:&nbsp3
梱包形態&nbspタイプ:&nbspREEL
梱包形態&nbsp数量:&nbsp2500
パッケージ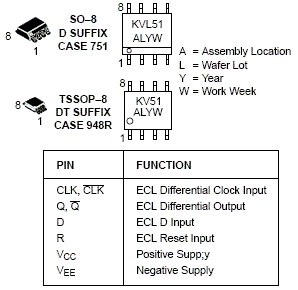 Specifications
Type: D-Type&nbsp
Bits: 1&nbsp
Input Level: ECL&nbsp
Output Level: ECL&nbsp
VCC Typ (V): 3.3&nbsp
tJitter Typ (ps): 1&nbsp
tpd Typ (ns): 0.475&nbsp
tsu Min (ns): 0.15&nbsp
th Min (ns): 0.2&nbsp
trec Typ (ns): 0.2&nbsp
tR & tF Max (ps): 320&nbsp
fToggle Typ (MHz): 2800&nbsp
Package Type: SOIC-8&nbsp TSSOP-8&nbsp