MC100LVEL16: Differential Receiver
内容:
The MC100LVEL16 is a differential receiver. The de...
The MC100LVEL16 is a differential receiver. The device is functionally equivalent to the EL16 device, operating from a 3.3 V supply. The LVEL16 exhibits a wider VIHCMR range than its EL16 counterpart. With output transition times and propagation delays comparable to the EL16 the LVEL16 is ideally suited for interfacing with high frequency sources at 3.3 V supplies. Under open input conditions, the Q input will be pulled down to VEE and the Qbar input will be biased to VCC/2. This condition will force the Q output low. The VBB pin, an internally generated voltage supply, is available to this device only. For single-ended input conditions, the unused differential input is connected to VBB as a switching reference voltage. VBB may also rebias AC coupled inputs. When used, decouple VBB and VCC via a 0.01 F capacitor and limit current sourcing or sinking to 0.5 mA. When not used, VBB should be left open.
特長
300 ps Propagation Delay
High Bandwidth Output Transitions
ESD Protection: >2 KV HBM, > 200 V MM
The 100 Series Contains Temperature Compensation
PECL Mode Operating Range: VCC= 3.0 V to 3.8 V with VEE= 0 V
NECL Mode Operating Range: VCC= 0 V with VEE= -3.0 V to -3.8 V
Internal Input Pulldown Resistors on D, Pullup and Pulldown Resistors on Dbar
Q Output will Default LOW with Inputs Open or at VEE
Meets or Exceeds JEDEC Spec EIA/JESD78 IC Latchup Test
Moisture Sensitivity Level 1
For Additional Information, see Application Note AND8003/D
Flammability Rating: UL-94 code V-0 @ 1/8", Oxygen Index 28 to 34
Transistor Count = 79 devices
供給状況 & サンプル
パッケージ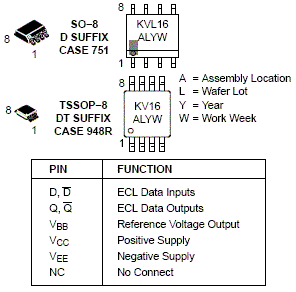 Specifications
Type: Signal Driver&nbsp
Channels: 1&nbsp
Input / Output Ratio: 1:1&nbsp
Input Level: ECL&nbsp LVDS&nbsp
Output Level: ECL&nbsp
VCC Typ (V): 3.3&nbsp
tJitterRMS Typ (ps): 0.7&nbsp
tskew(o-o) Max (ps): 20&nbsp
tpd Typ (ns): 0.3&nbsp
tR & tF Max (ps): 320&nbsp
fmaxClock Typ (MHz): 1000&nbsp
fmaxData Typ (Mbps): &nbsp
Package Type: SOIC-8&nbsp TSSOP-8&nbsp DFN-8&nbsp