MC100LVEL14: 3.3 V ECL 1:5 Clock Distribution Chip
内容:
The MC100LVEL14 is a low skew 1:5 clock distributi...
The MC100LVEL14 is a low skew 1:5 clock distribution chip designed explicitly for low skew clock distribution applications. The device can be driven by either a differential or single-ended ECL or, if positive power supplies are used, PECL input signal. The LVEL14 is functionally and pin compatible with the EL14 but is designed to operate in ECL or PECL mode for a voltage supply range of -3.0 V to -3.8 V ( or 3.0 V to 3.8 V).

The LVEL14 features a multiplexed clock input to allow for the distribution of a lower speed scan or test clock along with the high speed system clock. When LOW (or left open and pulled LOW by the input pulldown resistor) the SEL pin will select the differential clock input.

The common enable (EN) is synchronous so that the outputs will only be enabled/disabled when they are already in the LOW state. This avoids any chance of generating a runt clock pulse when the device is enabled/disabled as can happen with an asynchronous control. The internal flip flop is clocked on the falling edge of the input clock, therefore all associated specification limits are referenced to the negative edge of the clock input.

The VBB pin, an internally generated voltage supply, is available to this device only. For single-ended input conditions, the unused differential input is connected to VBB as a switching reference voltage. VBB may also rebias AC coupled inputs. When used, decouple VBB and VCC via a 0.01 5F capacitor and limit current sourcing or sinking to 0.5 mA. When not used, VBB should be left open.
特長
50 ps Output-to-Output Skew
Synchronous Enable/Disable
Multiplexed Clock Input
ESD Protection: >2 KV HBM
The 100 Series Contains Temperature Compensation
PECL Mode Operating Range: VCC = 3.0 V to 3.8 V
with VEE = 0 V
NECL Mode Operating Range: VCC = 0 V
with VEE = -3.0 V to -3.8 V
Internal Input Pulldown Resistors on CLK
Q Output will Default LOW with Inputs Open or at VEE
Meets or Exceeds JEDEC Spec EIA/JESD78 IC Latchup Test
Flammability Rating: UL-94 code V-0 @ 1/8",
Oxygen Index 28 to 34
Transistor Count = 303 devices
供給状況 & サンプル
MC100LVEL14DWG
状態:&nbspActive
Compliance:&nbspPb-free Halide free
内容:&nbsp3.3 V ECL 1:5 Clock Distribution Chip
外形&nbspタイプ:&nbspSOIC-20W
外形&nbspCase Outline:&nbsp751D-05
MSL:&nbsp3
梱包形態&nbspタイプ:&nbspTUBE
梱包形態&nbsp数量:&nbsp38
在庫
Market Leadtime (weeks):2 to 4
Arrow:0
Avnet:<100
Digikey:<1K
Newark:<100
ON Semiconductor:2,356
MC100LVEL14DWR2G
状態:&nbspActive
Compliance:&nbspPb-free Halide free
内容:&nbsp3.3 V ECL 1:5 Clock Distribution Chip
外形&nbspタイプ:&nbspSOIC-20W
外形&nbspCase Outline:&nbsp751D-05
MSL:&nbsp3
梱包形態&nbspタイプ:&nbspREEL
梱包形態&nbsp数量:&nbsp1000
在庫
Market Leadtime (weeks):4 to 8
Arrow:0
Digikey:>1K
パッケージ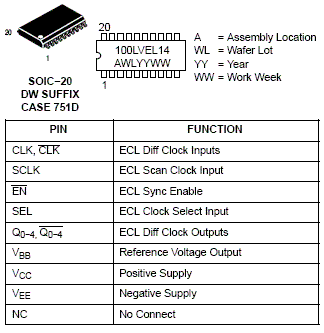 Specifications
Type: Buffer&nbsp
Channels: 1&nbsp
Input / Output Ratio: 2:1:5&nbsp
Input Level: ECL&nbsp LVDS&nbsp
Output Level: ECL&nbsp
VCC Typ (V): 3.3&nbsp
tJitterRMS Typ (ps): 0.2&nbsp
tskew(o-o) Max (ps): 50&nbsp
tpd Typ (ns): 0.68&nbsp
tR & tF Max (ps): 500&nbsp
fmaxClock Typ (MHz): 1000&nbsp
fmaxData Typ (Mbps): &nbsp
Package Type: SOIC-20W&nbsp