MC100EP445: Serial to Parallel Converter, 3.3 V / 5 V, 8-bit ECL
内容:
The MC10/100EP445 is an integrated 8-bit different...
The MC10/100EP445 is an integrated 8-bit differential serial to parallel data converter with frame asynchronous data resynchronization. The device is designed to operate for NRZ data rates of up to 5.0 Gb/s. The conversion sequence was chosen to convert the first serial bit to Q0, the second bit to Q1, etc. Two selectable differential serial inputs, which are selected by SINSEL, provide this device with loop-back testing capability. The MC10/100EP445 has a Sync pin which, when held high for at least two consecutive clock cycles, will swallow one bit of data shifting the start of the conversion data from Dn to Dn+1. Each additional shift requires an additional pulse to be applied to the Sync pin.

Extra control pins are provided to reset and disable internal clock circuitry. Additionally, VBB pin is provided for single-ended input condition.

The 100 Series contains temperature compensation.
特長
1530 ps Propagation Delay
5.0 Gb/s Data Rate Capability
Differential Clock and Serial Inputs
VBB Output for Single-Ended Input Applications
Asynchronous Data Synchronization (SYNC)
Asynchronous Master Reset (RESET)
PECL Mode Operating Range: VCC = 3.0 V to 5.5 V with VEE = 0 V
NECL Mode Operating Range: VCC = 0 V with VEE =-3.0 V to -5.5 V
Open Input Default State
CLK ENABLE Immune to Runt Pulse Generation
Pb-Free Packages are Available
アプリケーション
Serial to Parallel Converision
供給状況 & サンプル
MC100EP445FAG
状態:&nbspActive
Compliance:&nbspPb-free Halide free
内容:&nbspSerial to Parallel Converter, 3.3 V / 5 V, 8-bit ECL
外形&nbspタイプ:&nbspLQFP-32
MSL:&nbsp2
梱包形態&nbspタイプ:&nbspJTRAY
梱包形態&nbsp数量:&nbsp250
在庫
Market Leadtime (weeks):2 to 4
Arrow:0
Avnet:<1K
MC100EP445MNG
状態:&nbspActive
Compliance:&nbspPb-free Halide free
内容:&nbspSerial to Parallel Converter, 3.3 V / 5 V, 8-bit ECL
外形&nbspタイプ:&nbspQFN-32
外形&nbspCase Outline:&nbsp488AM
MSL:&nbsp1
梱包形態&nbspタイプ:&nbspTUBE
梱包形態&nbsp数量:&nbsp74
在庫
Market Leadtime (weeks):4 to 8
Arrow:0
Avnet:<100
Digikey:<1K
パッケージ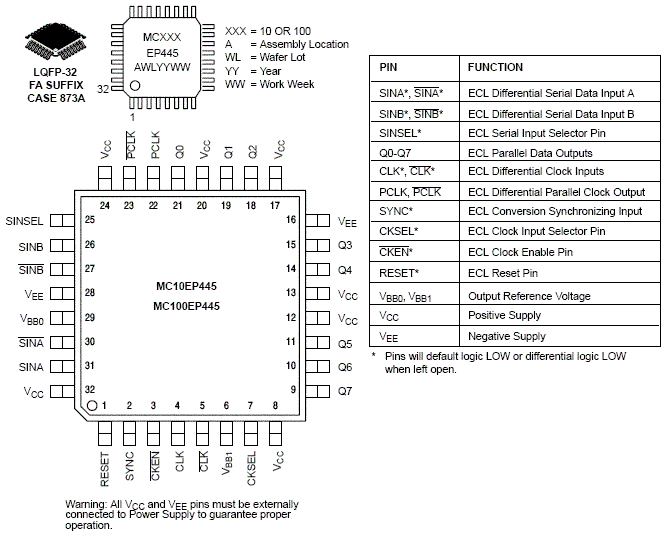 Specifications
Type: Serial/Parallel&nbsp
Bits: 8&nbsp
Input Level: CML&nbsp ECL&nbsp
Output Level: ECL&nbsp
VCC Typ (V): 3.3&nbsp 5&nbsp
fdr Typ (Gb/sec): 2.5&nbsp
tpd Typ (ns): 1.3&nbsp
tsu Min (ns): -0.4&nbsp
th Min (ns): 0.6&nbsp
tJitter Typ (ps): 0.2&nbsp
tR & tF Max (ps): 400&nbsp
Package Type: LQFP-32&nbsp QFN-32&nbsp