MC100EP195: 3.3 V ECL Programmable Delay Chip
内容: NECL/PECL input transition.

The delay sect...
NECL/PECL input transition.

The delay section consists of a programmable matrix of gates and multiplexers as shown in the data sheet logic diagram. The delay increment of the EP195 has a digitally selectable resolution of about 10 ps and a range of up to 10.2 ns. The required delay is selected by the 10 data select inputs D(0:9) which are latched on chip by a high signal on the latch enable (LEN) control. The MC10/100EP195 is a programmable delay chip (PDC) designed primarily for clock deskewing and timing adjustment. It provides variable delay of a differential The approximate delay values for varying tap numbers correlating to D0 (LSB) through D9 (MSB) are shown in the data sheet.

Because the EP195 is designed using a chain of multiplexers it has a fixed minimum delay of 2.2 ns. An additional pin D10 is provided for cascading multiple PDCs for increased programmable range. The cascade logic allows full control of multiple PDCs.

Select input pins D0-D10 may be threshold controlled by combinations of interconnects between VEF (pin 7) and VCF (pin 8) for CMOS, ECL, or TTL level signals. For CMOS input levels, leave VCF and VEF open. For ECL operation, short VCF and VEF (pins 7 and 8). For TTL level operation, connect a 1.5 V supply reference to VCF and leave open VEF pin. The 1.5 V reference voltage to VCF pin can be accomplished by placing a 1.5k Ohm or 500 Ohm resistor between VCF and VEE for 3.3 V or 5.0 V power supplies, respectively.

The VBB pin, an internally generated voltage supply, is available to this device only. For single-ended input conditions, the unused differential input is connected to VBB as a switching reference voltage. VBB may also rebias AC coupled inputs. When used, decouple VBB and VCC via a 0.01 uF capacitor and limit current sourcing or
特長
Maximum Frequency > 1.2 Ghz Typical
Programmable Range: 2.2 ns to 12.2 ns
10 ps Increments
PECL Mode Operating Range: VCC = 3.0 V with VEE = 0 V
NECL Mode Operating Range: VCC = 0 V with VEE = -3.0 V
Open Input Default State
Safety Clamp on Inputs
A Logic High on the ENbar Pin Will Force Q to Logic Low
D[0:10] Can Accept Either ECL, CMOS, or TTL Inputs.
VBB Output Reference Voltage
Pb-Free Packages are Available
アプリケーション
Automated Test Equipement (ATE)
General Purpose Data and Clock Interface
供給状況 & サンプル
MC100EP195FAG
状態:&nbspActive
Compliance:&nbspPb-free Halide free
内容:&nbsp3.3 V ECL Programmable Delay Chip
外形&nbspタイプ:&nbspLQFP-32
MSL:&nbsp2
梱包形態&nbspタイプ:&nbspJTRAY
梱包形態&nbsp数量:&nbsp250
在庫
Market Leadtime (weeks):4 to 8
Arrow:0
Digikey:<1K
FutureElectronics:<100
MC100EP195FAR2G
状態:&nbspActive
Compliance:&nbspPb-free Halide free
内容:&nbsp3.3 V ECL Programmable Delay Chip
外形&nbspタイプ:&nbspLQFP-32
MSL:&nbsp2
梱包形態&nbspタイプ:&nbspREEL
梱包形態&nbsp数量:&nbsp2000
在庫
Market Leadtime (weeks):4 to 8
Arrow:0
PandS:<1K
MC100EP195MNG
状態:&nbspActive
Compliance:&nbspPb-free Halide free
内容:&nbsp3.3 V ECL Programmable Delay Chip
外形&nbspタイプ:&nbspQFN-32
外形&nbspCase Outline:&nbsp488AM
MSL:&nbsp1
梱包形態&nbspタイプ:&nbspTUBE
梱包形態&nbsp数量:&nbsp74
在庫
Market Leadtime (weeks):2 to 4
Arrow:0
Digikey:<100
ON Semiconductor:3,034
PandS:<1K
パッケージ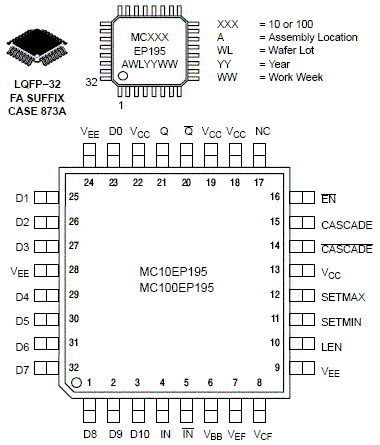 Specifications
Input Level: ECL&nbsp CML&nbsp
Output Level: ECL&nbsp
VCC Typ (V): 3.3&nbsp
fMax Typ (MHz): 1200&nbsp
td(prog) Min (ns): 7.85&nbsp
td(prog) Max (ns): 10.95&nbsp
td(step) Typ (ps): 14&nbsp
tJitter Typ (ps): 1.16&nbsp
tR & tF Max (ps): 135&nbsp 200&nbsp
Package Type: LQFP-32&nbsp QFN-32&nbsp