MC100EL91: Triple LVPECL/PECL Input to -5.0 V ECL Output Translator
内容:
The MC100EL91 is a triple PECL input to ECL output...
The MC100EL91 is a triple PECL input to ECL output translator. The device receives standard or low voltage differential PECL signals, determined by the VCC supply level, and translates them to differential -5 V ECL output signals. (For translation to -3.3 V ECL output, see MC100LVEL91.)

To accomplish the level translation, the EL91 requires three power rails. The VCC supply should be connected to the positive supply, and the VEE pin should be connected to the negative power supply. The GND pins are connected to the system ground plane. Both VEE and VCC should be bypassed to ground via 0.01 µF capacitors. Under open input conditions, the Dbar input will be biased at VCC/2 and the D input will be pulled to GND. This condition will force the Q output to a low, ensuring stability. The VBB pin, an internally generated voltage supply, is available to this device only. For single-ended input conditions, the unused differential input is connected to VBB as a switching reference voltage. VBB may also rebias AC coupled inputs. When used, decouple VBB and VCC via a 0.01 µF capacitor and limit current sourcing or sinking to 0.5 mA. When not used, VBB should be left open.
特長
670 ps Typical Propagation Delay
ESD Protection: >2 KV HBM, >200 V MM
The 100 Series Contains Temperature Compensation
Operating Range: VCC = 4.75 V to 5.25 V;
VEE = -4.2 V to -5.5 V; GND= 0 V
Internal Input Pulldown Resistors
Q Output will Default LOW with Inputs Open or at VEE
Flammability Rating: UL-94 code V-0 @ 1/8",
Oxygen Index 28 to 34
Transistor Count = 282 devices
Pb-Free Packages are Available
供給状況 & サンプル
MC100EL91DWG
状態:&nbspActive
Compliance:&nbspPb-free Halide free
内容:&nbspTriple LVPECL/PECL Input to -5.0 V ECL Output Translator
外形&nbspタイプ:&nbspSOIC-20W
外形&nbspCase Outline:&nbsp751D-05
MSL:&nbsp3
梱包形態&nbspタイプ:&nbspTUBE
梱包形態&nbsp数量:&nbsp38
在庫
Market Leadtime (weeks):8 to 12
Arrow:0
Avnet:<100
Digikey:<100
ON Semiconductor:6,650
MC100EL91DWR2G
状態:&nbspActive
Compliance:&nbspPb-free Halide free
内容:&nbspTriple LVPECL/PECL Input to -5.0 V ECL Output Translator
外形&nbspタイプ:&nbspSOIC-20W
外形&nbspCase Outline:&nbsp751D-05
MSL:&nbsp3
梱包形態&nbspタイプ:&nbspREEL
梱包形態&nbsp数量:&nbsp1000
在庫
Market Leadtime (weeks):2 to 4
Arrow:0
PandS:<1K
パッケージ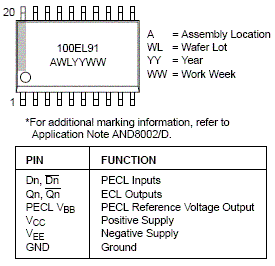 Specifications
Channels: 3&nbsp
Input Level: ECL&nbsp
Output Level: ECL&nbsp
VCC Typ (V): 5&nbsp
fMax Typ (MHz): 700&nbsp
tpd Typ (ns): 0.67&nbsp
tR & tF Max (ps): 530&nbsp
Package Type: SOIC-20W&nbsp